As mentioned in the previous article, Frimley Green was changing. Some of the old cottages were being demolished around the green. Building has started on a new fish and chip shop, a greengrocers, a hairdresser.
As mentioned in the previous article,.Frimley Green was changing. Some of the old cottages were being demolished around the green. Building has started on a new fish and chip shop, a greengrocers, a hairdressers Salon a lighting shop and a dentist. A new Methodist Church was built on the site where Mr. and Mrs. Hall's small bungalow had stood.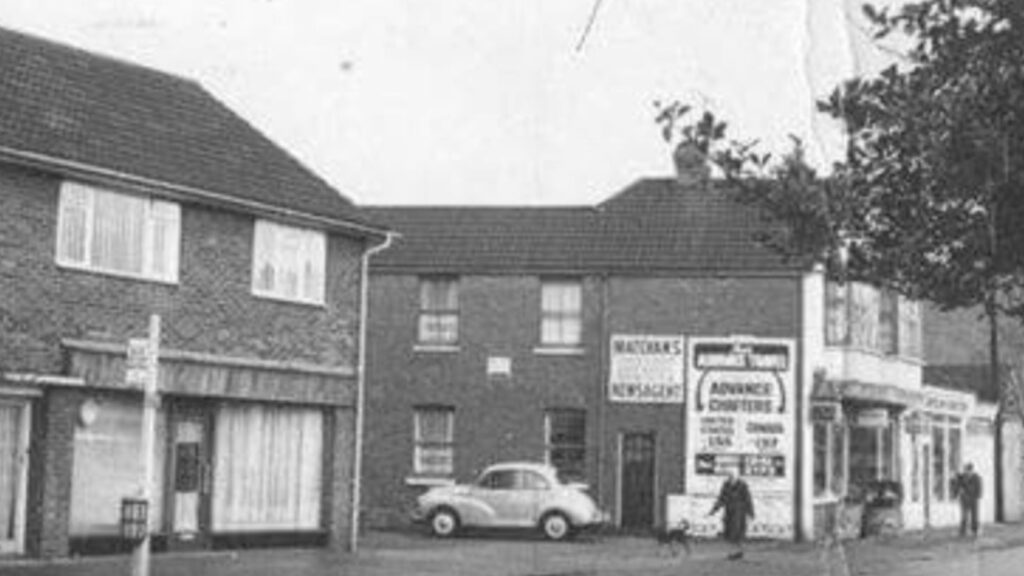 Frimley Green Working Men's Club needed to expand and plans had been approved to make it larger. New business was coming in from the Waterboard building just down the road and other new retail businesses were moving in. The living allowance was getting better, people had a few more pennies in their purse.
The committee members at the start of the seventies were: Mr. Tracy, Mr. Bean, Mr. Dawes, Mr. Kirby, Mr. Maxted, Mr. Woodhouse, Mr. Hearn, Mr. Smith, Mr. Riches, Mr. Ruff, Mr. Parker, Mr. Goddard, Mr. Day, Mr. Dixon, Mr. Lloyd and Mr. Warnaby.
Some of the minutes from the club ledgers include:
A proposal that bar staff and committee members should wear badges so members knew who they were.
The mystery tour night out to see The Danny La Rue show. This was at the cost of £11.00 per person and included a meal and the coach.
In 1971 police were called out regarding the noise made by the pop group's amplifiers, a letter stating if the noise level was not dealt with within fifteen days of serving this notice it will be taken to court. At this time the club had no music licence, so the acting solicitor on the clubs behalf strongly advised them to stop the music and use of the amplifiers.
The treasurer reported that the Building Fund for the extension was looking healthy.
£1000 in Guildford Rural Building Society and £2500 in the Halifax Building Society.
A letter arrived at the club from The Kings Head public house football team asking if they could use the club as their Headquarters, this was refused. A small beer hut was purchased from Hewitts at the cost of £55.00. White lines were drawn up in the car park and a new iron gate and padlock. (Car Park used to be in front of the club.) Club Member Mr. Bill Duddy won the 1967/68 News of The World Darts Championships. Credits Mrs. Cherry Duddy.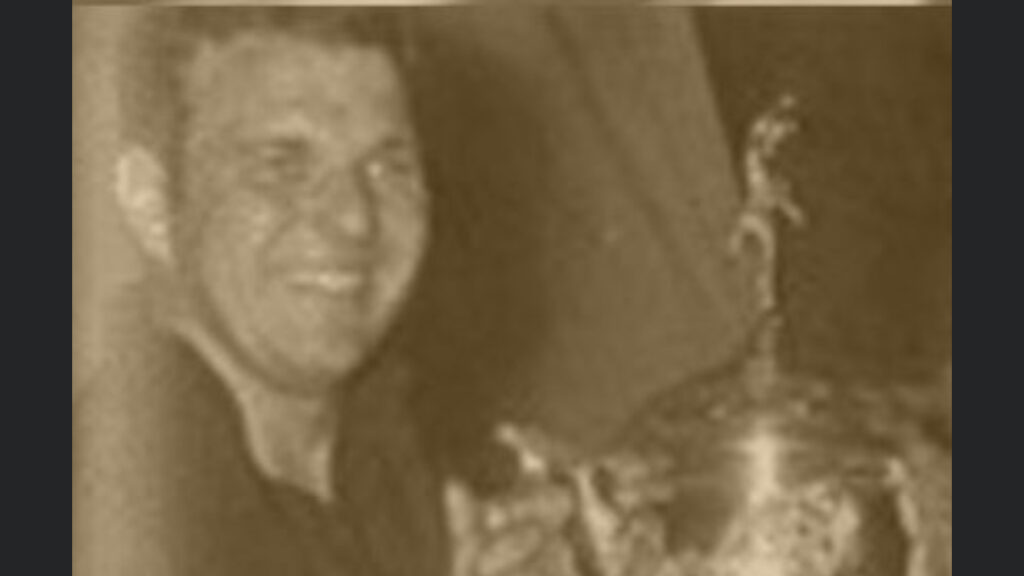 An advert went out for a new Bar Steward and Stewardess. The position was given to Mr and Mrs Draper from Bolton. As cleaning of the club was getting to much for the Stewards, it was proposed they engage a cleaning firm four days a week. This would cost £7.00 and was taken out of the Stewards wages each week. A request was put forward to sell sea fish food this was turned down.

From the suggestion box: "Isn't it about time we had an ice tray at the bar or a supply of ice cubes"
FGWMC had taken over 250 Members, their families and orphans to the pantomime at the Civic Hall over the years. A request for an electric organ at the cost of £200 in hopes that there would be a talented club member to entertain on some nights, but this was put on hold as a gift of a piano was donated by Mrs. Foy to the club members. A complaint was made regarding a member playing music in the darts room. The man was a life long member and was playing the mouth organ. He was notified that he was a nuisance to other members.
The Double Diamond beer was introduced on a three month trial but did not sell well.(Apparently, Double Diamond does not work wonders!)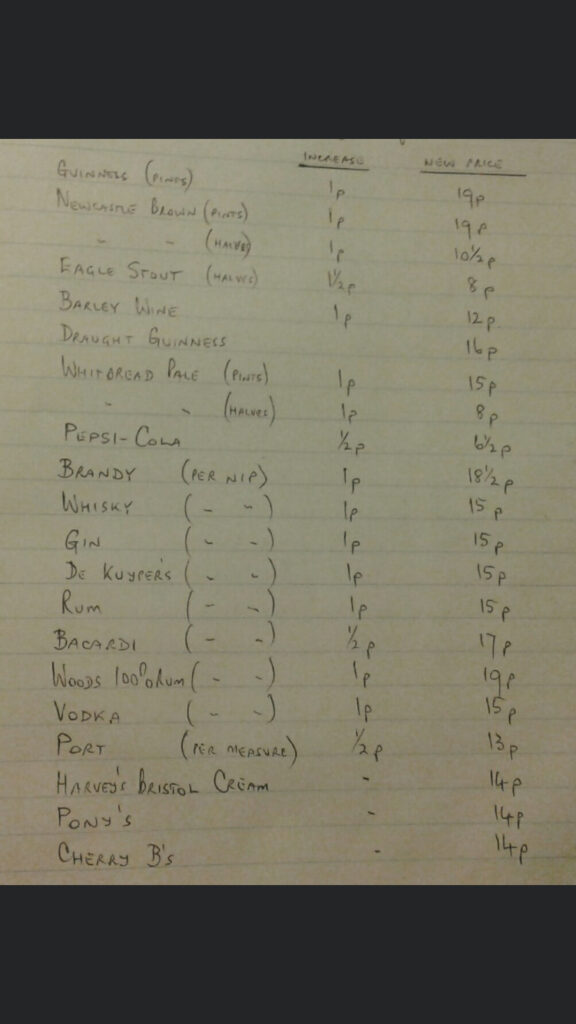 A complaint was made about the making of Snowballs cocktails. It was deemed unreasonable that on a busy night, the Steward should have to mix the drink and that bottled ones would be offered instead. A member was called up before the Chair of Committee for admitting his 16 year old daughter to play Bingo on Bingo nights. Police were called out after a complaint about two members who could be heard talking loudly at the rear of the club. One of the men was seen jumping over the fence in his underpants at 9.30 pm. Later that evening he was reported to have been "Rollicking and stacking bottles" at the rear of the club.
Mr Parker asked permission to hold a Jumble Sale in the hall to raise money for the kiddies party. It was to be September 29th 1974. It was reported that Mr Riches wrote the history of the club. (Where is this now?.)
Soundproofing the hall needed to be done so the Building Fund would pay this at the cost of £125.00.
A request for "Tapes of Good Music" as well as "Modern ones." A suggestion to set up a Mortality Fund. Each club member pay 15p a year for members widows, to help with funeral cost.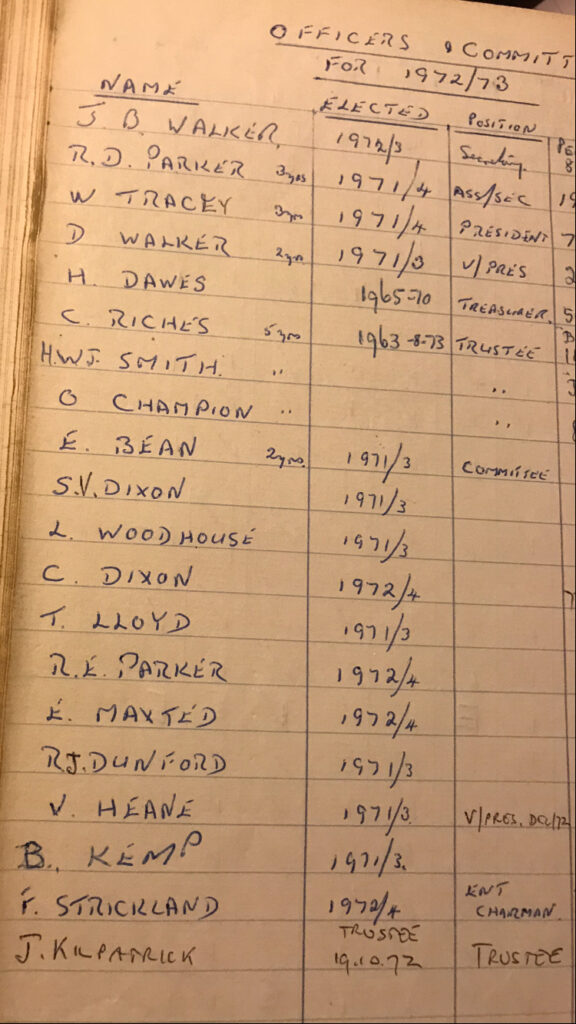 1972 we had our own very first "Dollies"…. yes you ask what could that be? A Dolly was a lady who served behind the bar. (Note I got very excited about reading and writing this paragraph.) our first Dolly was used on a "Surge nights" to help out. She soon became a popular member of staff. That first month of a female bar service showed an increase of men wanting to join the club! Dollies!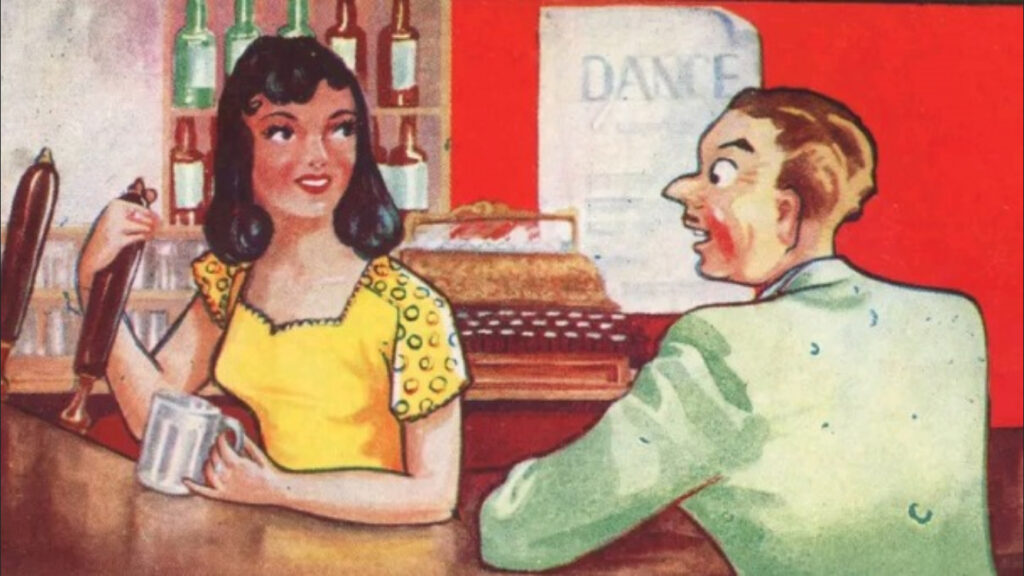 In 1974 you could have a Christmas drink on Christmas Day to the value of 15p, That year they purchased new Christmas decorations and the very first Christmas tree was put up in the club. So now we are moving along faster and catching up with fashionable attitudes. Throughout the 70's the snooker/ billiards room needed painting, lighting, heating, re-clothing the tables, cues and balls.nBar prices were revised and amended.
Tables were arranged in a similar style of a cafe: tables towards the walls. Old Tyme Sequence Dancing lessons were proving to be popular at the cost of £2.00 per lesson. Mr and Mrs Chatfield of Guildford officiating.
Disco night were a sell-out and raffle ticket money to had a sharp increase in profit. There was a larger selection of spirits on offer at the bar.
Now we are rocking into the mid-70s we are getting more and more members, more entertainment. Mr Charlie Dixon was elected onto the committee. Credits Mr. Dixon Family.

Many of our members enjoyed the odd bet, football and betting went hand in hand. Playing the Football Pools was a cheaper way to bet. You could ponder over your teams with a pint in your hand. The aim of the game was (and still is, though not so popular since the National Lottery) to predict the outcome of association football matches in the coming week. "X" marks the spot on your slip! Members entry slips would be collected up by one of our male members and sent off to Littlewoods pools agents. An old pools slip was found in one of the club's ledgers, was this a winner, I wonder?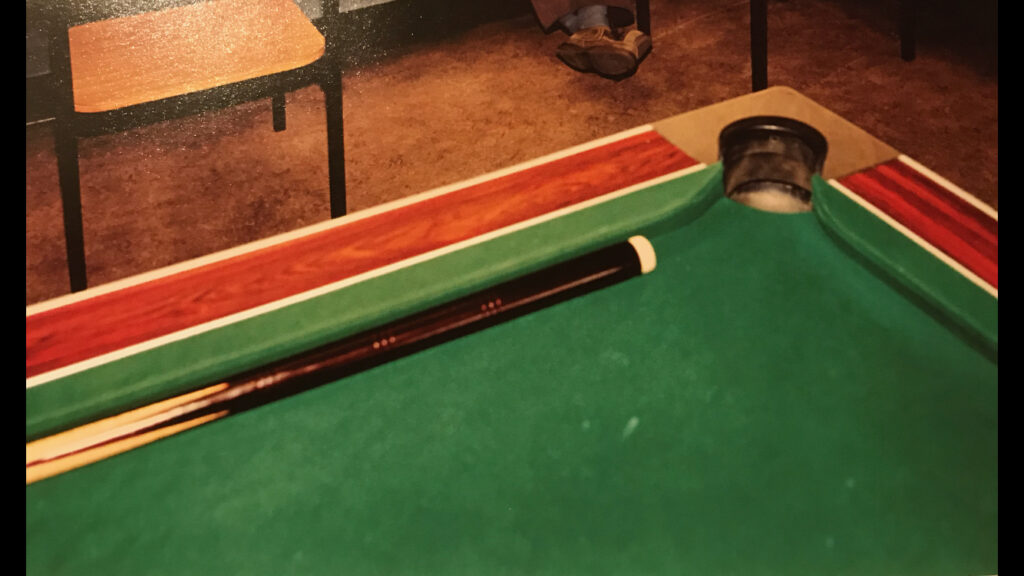 To close this this memorable decade it was passed unanimously that members reaching the age of 65 years, having fully paid-up membership of not less than 15 years, should be granted a Life-Long member of the club automatically.
Want more? Part 4 cover 1980 and the new hall extension, Bingo and our Carnival Floats.

Written by Debbie Hutson.
Home – Contact us – Sitemap